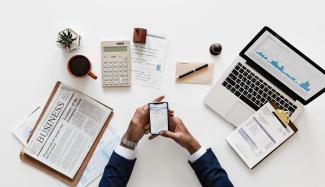 Why Financial Literacy is Important
Being financially literate in today's economic climate is more important than ever. Understanding finances can help you make better money management decisions, budget your money properly, adequately save for college, and be financially prepared for retirement. While it may sound daunting, financial literacy starts with a budget. Today, only one third of Americans have a budget that they actively use when making financial decisions, although 75% of Americans believe you should have a budget.
With more of the burden placed on consumers to make educated decisions about things they may have little knowledge of, it's important to educate yourself properly, no matter what your age. Here are a few reasons why financial literacy is so important today:
Longer Life Span – In 1960, the average lifespan was 69.7 years. Today, it's 78.7 years; an increase of nearly ten years. And while no one is complaining about living longer, the fact is that because we're living longer, we'll need to save more money for retirement. However, a new statistic shows that 22% of Americans have less than $5,000 saved for retirement. By educating young Americans about finances, it's likely that more will start planning (and saving) for retirement sooner.
Reduced Pensions – The rule of thumb years ago was that you spent your professional life with one company, and retired with a healthy pension. Employees had little, if anything to do with managing that pension, and were not required to understand investments, where they should invest, and how much of their money they should invest. Today, aside from the public sector, the majority of businesses have done away with pensions, instead offering employees the chance to participate in a 401(k) plan, where they'll need to make decisions on how much of their money they wish to contribute, as well as where their investments should go.
Social Security Benefits Not Enough to Live On – The average Social Security benefit paid per month is $1,461; not nearly enough to live on comfortably. It's vital that retirees have another source of income, whether from other retirement accounts, a 401(k) or IRA, or a savings account.
Aggressive Credit Card Companies – Today, people can receive dozens of solicitations for credit cards on a weekly basis. It's easy to succumb to the temptation, and equally easy to find yourself thousands of dollars in debt. By understanding the role that credit cards should play in your financial health, you are much less likely to overspend, and use the cards properly.
The Death of Cash – Only 18% of Americans state that they use cash to make most of their purchases. While debit cards and electronic payment apps have certainly simplified the buying process, they have also left us with a curious detachment to our money, making it much easier to overspend without seeing the immediate consequences as we did with cash, when we could simply look in our wallet and see our cash dwindling. But by being proactive about our financial health, we can learn to pay closer attention to the consequences of our spending, no matter how a purchase is paid for.
While implementation of a financial literacy curriculum in schools is a positive trend towards financial literacy, we all need to take a long look at our financial health and see if we need a refresher course in financial literacy.
*This content is developed from sources believed to be providing accurate information. The information provided is not written or intended as tax or legal advice and may not be relied on for purposes of avoiding any Federal tax penalties. Individuals are encouraged to seek advice from their own tax or legal counsel. Individuals involved in the estate planning process should work with an estate planning team, including their own personal legal or tax counsel. Neither the information presented nor any opinion expressed constitutes a representation by us of a specific investment or the purchase or sale of any securities. Asset allocation and diversification do not ensure a profit or protect against loss in declining markets. This material was developed and produced by Advisor Websites to provide information on a topic that may be of interest. Copyright 2023 Advisor Websites.